Stressed Injury or Pain?
I can help you with my therapeutic approach
Stress/Anxiety and Depression
Lower back pain
Sciatica
Sports injuries
Joint stiffness
Poor circulation
Headache and Migraines
Fibromyalgia
Carpal Tunnel
Arthritis & Arthritis
Insomnia
Frozen shoulder
Tennis Elbow
Shin Splints
Bursitis
Pregnancy discomfort
Muscle spasms
Sprains and strains
Sports , work and motor vehicle injuries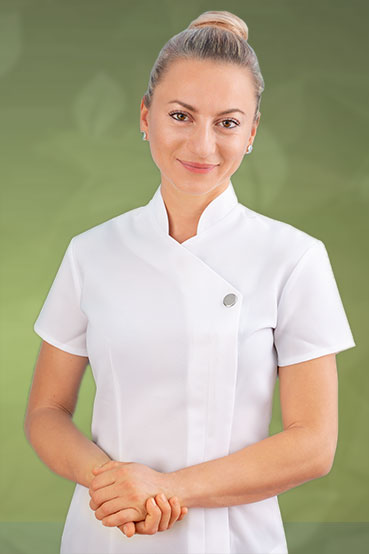 Hi, I'm Olena Potyeyeva certified and licensed massage therapist. I have been practising massage therapy for the past 15 years in Montreal and around the world while working on privately owned yachts. I was drawn to massage therapy through a passion to help others.
Quality is the key word for my service . Every client is important to me.
I know that no single approach is the right one for every individual , this is why I aim to create  customized approach to my client's needs rather than a spa menu of services. I also have a number of other health care professionals that I work in tandem with and refer to with great confidence.   So when you choose UniMassage Therapy you get an entire team of support.
I'm specialized in Deep tissue and Therapeutic massage as well as Injury treatments.
When experiencing a frozen shoulder, sciatic pain, tendinitis and bursitis, I can help your body to bring back mobility and flexibility; For shoulder pain, neck pain, back pain, carpal tunnel syndrome, sciatic pain or preparation for sportive competitions as well.
I provide my quality service in a professional and supportive environment located inside of U.N.I Training in Nordelec building.
If you have any questions I am always happy to answer.  Please feel free to email me olena@unimassage.ca and I will respond to you as soon as I can.
I thank those who have all put their trust in my hands and I hope that you too entrust me to fulfill your health needs.
Olena Potyeyeva
Registered Massage Therapist (SNMQ)
Registered Naturopath ( SNNQ )
Professional Laser Therapist ( BioFlex )
Massage teacher ( EDMA )
Yoga teacher ( Dr. Bali method)
Sound therapist